SoundBridge
With these comfortable and adjustable headsets, our residents are able to communicate on a whole new level. From engaging in socially distanced activities such as Hallway Bingo to communicating with loved ones through our Welcome Window, these headphones make it possible for our residents to connect with team members and loved ones like never before. Each headset comes with personalized volume control so our residents can adjust according to their own needs. The specialized microphone and adaptor allow our team members to connect with individual residents or a whole group at one time, making it easy to enjoy a favorite record together, even when everyone is more than six feet apart.
Creating Aha! Moments
Sometimes, even with hearing aids, distinguishing the correct sounds can be a challenge. SoundBridge enables our residents to focus on one stream of sound for ultimate personal control over what they are listening to whether that is morning exercise class, a dinner companion, or grandchildren showing off their latest creation.
Read more about our experience with SoundBridge by clicking the button below.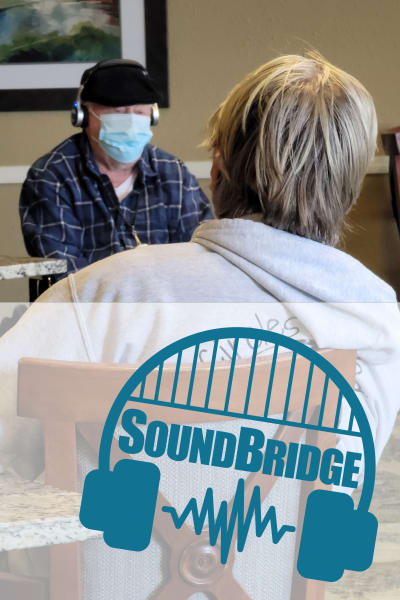 Communication, Enhanced
At Pennington Gardens we aim to create the best environment for our residents to thrive. By supporting our residents and staff with the best tools possible, we can bridge the gap of social isolation. If our residents have a hard time hearing instructions from a caregiver or a compliment from a friend, they are less likely to want to participate in everything from card games to watching their favorite movie. With SoundBridge, we are able to connect them to their favorite things (and people) like never before.
Call today to hear more about how we're using SoundBridge to foster connections at Pennington Gardens.